These are marked "J522-13", the shaft attached to the knurled knob is 1/2 inch diameter, the bore is .625 for .200 inches, 1/2 inch thereafter. The knurled knob/shaft is captive. The rectangular steel piece is 1 inch wide, 1.490 high, 3 inches front to back. Treated to produce black oxide, so these were nicely made, but what are they for?

I now believe these are used to set the pinion gear on '70s AMC products, though I can't be sure - see http://vintage.mitchell1.com/PClubData/chassis/den80/V2D808009.pdf I don't find this exact number, but the gauges mentioned do look a lot like this. I also think they were made by Kent Moore (KM)



Mystery bracket - presumably held in place with 1/2" diameter bolts, forged, marked DF and DD57 some silver paint residue and some little bit of red paint - what does it fit? could it be a wrench?

I have had suggestion that it is for square shank steam valves - I'd like to know for sure based on the markings, but that guess makes sense.




0 to 30 (inch vacuum) gauge with two needle valves and two sight glasses. vertical needle valve vents to atmosphere through small hole in back of valve body. Gauge face is imprinted "Robinson's Automotive Service" - the number 151 is stamped on the underside of the curved part below the gauge. Curvature of the bottom looks like it might strap to a steering column on a vintage car.

My guess is that this is associated with fuel system or oil systems on an early car - some had pressurized fuel systems and some had drip oilers.

what is this?
no clue what this is - any idea?
Solved: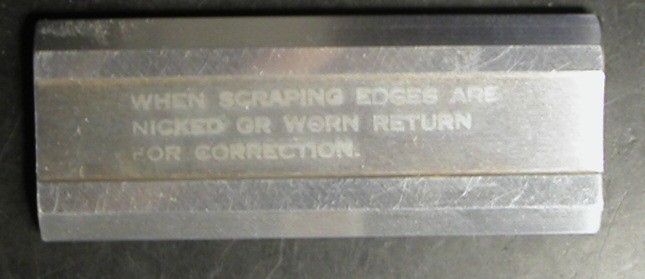 On the other side, this item is marked " PRECISION GAGE & TOOL CO. 28 VOLKENAND AVE., DAYTON, OHIO 45410. Dimensions are: 3.62 inches long, 1.42 inches wide (36 mm) and .239 inches (7.16 mm) thick.
This is probably part of an ink gauge, see http://www.pgtgage.com/grindgag.html
(thanks Al Mirman)
Its a scraper blade used to verify grind in a new batch of paint...or ink. All paints, except clear ones, and many times these as well, have powders ground into them, either fillers and/or pigments. The shinier the paint, the thinner grind needs to be. The test in the QA lab involves putting a few drops on a handheld metal slab that has two grooves going from zero depth to a few microns. Then take the scraper in your picture and drag the paint along the bar. Look at the smear at an angle to a light source and discern where "dots" start to appear. those chunks indicate the finess of grind. We called it a Hegman. Can probably be used for ink production as well.
Thanks to Norm Z.

This item was described as a "height gauge" - that doesn't make sense to me - what is it? the steel block is marked T-26240, the top of the casting is marked FC211C. The 3 bushings you can see in the top are all marked 17-64 (but they measure 0.292 inches ID, which is about .030 larger than 17/64). Maybe it's some kind of specialty drilling fixture? That seems a bit odd since it is definitely a production item. It is 7 inches tall as shown in the picture, the two steel shafts are .725 inches in diameter, the steel block is 2.50 inches wide, 1.6 inches high, and 2.0 inches deep. There are two alignment pins sticking out the bottom of the top casting that align with the pins in the steel block.
This is a drilling fixture, for sure, so the remaining question is, is it a stock production item? anyone care to guess what company made it, I don't think it's shop made, with the cast pieces and all.
From the data below, it's a diode of some kind, but for what purpose and used in what devices: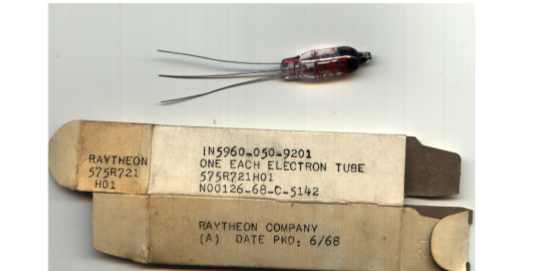 Supplier Data Response for NSN 5960-00-226-3319
Item Name: ELECTRON TUBE

CAGE Code: 79500 Status: A Type: A CAO: S3911A ADP: S3910A

Company Name and Address: WESTINGHOUSE ELECTRIC CORP
11 STANWIX ST Phone: 412-256-1000
PITTSBURGH PA 15222-1312 UNITED STATES
RPLM Code: ASSOC Code: 79500 AFFIL Code:
SIZE: E Primary Business: J Type of Business: N Women Owned: N
SIC Codes:

Management Data Response for NSN 5960-00-226-3319
Item Name: ELECTRON TUBE
PMI: U ADP: CC: X DML: D DI: ESDC: HMIC: P
ENAC:
S/A
PC
SOS
Phrase
AAC
Statement
QUP
UI Conv Factor
Unit Price E/A
MMYY
SLC
CIIC
OOU
RC
JTC
MGMT CTL
USC
DS
S9E
Z
1
EA
77.34
A 0785
0
7
-------
I
DF
S9E
Z
1
EA
77.34
0
7
N
SF9BF-N
F
DN
S9E
Z
1
EA
77.34
0
7
9N-----
N
Characteristics Data Response for NSN 5960-00-226-3319
Item Name: ELECTRON TUBE
MRC Requirement Statement Clear Text Reply
NAME ITEM NAME ELECTRON TUBE
AWGH TUBE TYPE DIODE
Reference Number Data Response for NSN 5960-00-226-3319
Item Name: ELECTRON TUBE
TYPE II: M INC: 00001 HCC:

I D
S RN RN A RN
Part Number CAGE SC C CC VC C AAC SADC

575R721H01 79500 A 2 5 2 X SB
575R721H01 97942 A 2 3 2 X SB

Thanks to Mark, I have some additional information on this part, it looks like it was in use as recently as 1991 in something, but what?
The part number is in our database (rev F dated 1966-02-09, rev G dated 1991-12-20 most current entry). There are no users indicated in the on-line database no current need for this part. The source control drawing is owned by Test Design Engineering (group within NGC-ES, in Baltimore, that "owns" the part). There may be paper archives where one could find out where this part had been used.
updated 07/14/2021